The Best Christmas Gift
The Story Behind The Best Christmas Gift
"Boris learns that love is the greatest gift in 'The Best Christmas Gift!" — Harrison Woodard
Background – The Best Christmas Gift was the first children's story I finished. I had dabbled in writing throughout my life, but one night God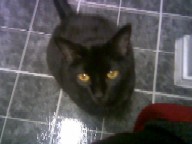 placed in my heart two stories based on the life of my cat, Boris. You can see him here. Isn't he precious?
While he was still a kitten, I set up a 7′ Christmas tree in the living room. Before it was decorated, he had mastered about 6′ and narrowly avoided a disaster. Like all cats, Boris is curious and fearless. But sometimes that does lead to some challenging situations.
The Boris Kitty series is written from his perspective. His parents are human and he completely understands their language. The humans in the story have a unique relationship with the animals, but they of course do not understand the animals, with one exception.
Summary – Boris is naturally the hero. On Christmas Eve he realizes that he has nothing to give his parents. An angel named Noel arrives to tell him the story of another cat named Gideon that had the very same problem. The story within the story recounts the Nativity of Jesus with Gideon witnessing the birth of Christ. Gideon's gift to Jesus provides Boris the inspiration for his own gift to his parents.
Did You Know? – Matney, the last name of Boris' parents, was my Mother's maiden name. Her poems and my Grandfather Matney's sermons are available online.
The Best Christmas Gift was adapted for stage by Jennifer M. Snowman. This makes a great Christmas play. The story was illustrated by Donna Rosin.
Biblical Theme – I usually go to God's Word for inspiration for each story. The verses selected for The Best Christmas Gift at first seem like a strange combination:
Today in the town of David a Savior has been born to you; he is Christ the Lord. — Luke 2:11
Jesus said unto him, Thou shalt love the Lord thy God with all thy heart, and with all thy soul, and with all thy mind. This is the first and great commandment. And the second is like unto it, Thou shalt love thy neighbor as thyself. On these commandments hang all the law and the prophets. — Matthew 22:37-40 KJV
But in reality they fit quite nicely. God is love. That very first Christmas He gave Himself, love, to humanity. When God is commanding us to love Him, ourselves and others, He is leading by example. Love is not a feeling. It is action and a way of life that connects us to God.
Hope You Enjoy the story. Merry Christmas!
Comments
comments