Author Info
"Words are like Diamonds, the more refined, the greater the value" — Harrison Woodard
My Faith – I was raised by two spirit-filled Christians and attended Methodist Churches throughout my childhood. I received degrees from two Methodist Universities: Lon Morris College and Southern Methodist University (Go Mustangs!). I took several religion and philosophy classes, but still felt lacking in my spiritual life.
During a really trying time in my life, I turned back to the Bible and the extensive library that my parents had accumulated of outstanding Christian writers. As I read and studied the New Testament, I found myself craving the miraculous and abundant joy that the disciples and early Church had enjoyed.
As my faith grew by continually hearing and meditating on the Word, I was led to start writing Christian children's stories. Then came other projects such as Christian poems and children's songs. On Thanksgiving weekend 2001, I launched Matney Woodard Entertainment as a place to publish and share my work along with my Mother's poems and my Grandfather's sermons. What started out as a little diversion has mushroomed into one of the top destinations for those seeking inspirational stories and content. People from every continent have been blessed by this site. The name Matney Woodard honors my Grandfather Matney and both my parents. Without their love, prayers and faith, I would not be here.
My Writing – It all started with a little black cat named, Boris.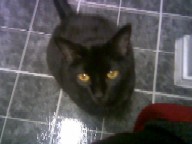 Many years ago, Boris entered my life as a precocious little ball of fir that really, really loves his Daddy. I wasn't a cat person, but Boris changed all that. Unlike most cats, he wants to be right in the middle of everything. He comes when you call and wherever I am, he is likely there. He has been inspiring stories for more than a decade, but he still has the energy and spunk of a kitten.
Boris even has his own Facebook page. Send him a friend request if you would like.
One restless night, I had an idea for two children's stories based on his life. I wrestled with them for a couple of hours before finally getting up and writing them down.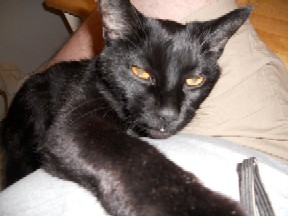 Those first two stories, The Adoption Miracle and The Best Christmas Gift, were the start of the Boris Kitty series that uses Boris and his friends to teach faith to another generation. There are now 15 stories in the series, all available online.
The Best Christmas Gift launched another series, Animal Parable Bible Stories. These are original Christian children's stories that parallel Bible Stories. The first one published, Humongous Hollis, is the story of the fish that swallowed Jonah. This was followed by the Christmas story, Kirsi, The Little Lost Lamb, about a lamb who is determined to see the birth of Jesus.
I have also written Animal Parables, which are Christian stories featuring animals. The first one is a much appreciated Christmas story, Mette's Christmas Miracle. During a terrible Norwegian winter, a little sparrow named Mette proves that God is always ready to help. This story explains the birth of a Scandinavian Christmas custom that is for the birds.
There are now over 10 Animal Parable Bible Stories, companion lessons and four Animal Parables published online. The theme for all is Job 12:7:
Ask the animals and they will teach you.
I also have some short stories online. Heli, The Star of Bethlehem is a Christmas story about the star that appeared over Bethlehem to announce the birth of Jesus. And The Carpenter and the Little End Table, a Christian short story about the love between a creator and his creation.
One of my most popular short stories, Heaven's Art Gallery, has touched many readers. No other story has produced so many comments. Here is a sampling:
"I don't think there was a dry eye anywhere."
Glenda Andrus
Lighthouse Christian Center, Millford, Delaware
"It is a powerful and moving story and moves us to such personal questioning of where we are in our journey with our Lord."
Joan Gibertini
First Presbyterian Church, Pasadena, Texas
MWE has been a tremendous success. Over 1,000,000 pages have been visited by folks from every continent on the planet. The email requests, prayers and notes of encouragement have been wonderful. Thanks to every one of my fans!
MWE has led to additional online projects. King's Kid Stuff is a topical directory of free Christian resources. As I studied topics for various projects, I realized how hard it was to locate quality Christian materials. KKS provides teachers and students with quick access to a multitude of quality sites on various Biblical topics.
Nothing is more important to growing your faith than hearing and studying the Word. It is my hope that KKS makes it easier for those seeking the truth, or teaching the Word, to locate plenty of good content.
To keep up with all my online activities, visit the Matney Woodard Facebook page and "like" it. This will keep you connected and up to date on all my online activities that are Christian in nature.
My Politics – I have a Biblical mandate to pray for our leaders regardless of party. But as a Christian, I know that my source is God and not the government.
I was raised in a yellow-dog Democrat home, but was appalled by the radical swing left that the Democrat party has made in the last few decades. I am now a committed Conservative, believing that the best government is one that is extremely small and limited (as the Founding Fathers intended) to preserve our God-given freedom. I sometimes blog on political topics at Harrison's Home.
Thomas Jefferson is a hero of mine and this quote perfectly explains my political views:
"I am for a government rigorously frugal and simple. Were we directed from Washington when to sow, when to reap, we should soon want bread."
I must live by faith, trusting God for all my needs. As I sow my seed, I receive abundantly back to meet all my needs and share with others. If the Church would really grasp the power of sowing and reaping, and the Blessing that belongs to those in the Kingdom of God, the need for a massive government nanny state would quickly pass.
I vote for and support candidates that share the following view:
US Formula For Success
Small Government + Lower Taxes + Strong Defense
= Freedom & Prosperity For All
Comments
comments